Nobody wants you to see these George Floyd mugshots because it humanizes him. They are busy wanting you to think of him as a martyr. If you haven't heard of it yet, check out my book The Digital Lynching of George P. Floyd on Amazon to support my investigative work.
By Matt Berman
---
If you don't care about the background on how I got these George Floyd mugshots, just scroll down. You'll see them starting at about 25% through this article. For those of you interested in the process, in case you want to do this yourself some day, please read further. It's also interesting from the perspective of how long it actually should take to verify information. I hope that by the end of this you realize you should withhold your judgments and conclusions for longer than 8 minutes and 46 seconds.
Prior to this article there were no places on the internet you could find George Floyd mugshots. But when we do work here at Philly Made Creative, it is always the most thorough work possible. Unfortunately the press, and politicians have failed you in this investigation. Everybody else is looking in the wrong places, and ignoring the most basic information.
There are a few reasons for that I think:
Attorney Ben Crump, who is representing the Floyd family, does not want anybody to see these.
The local press is complicit in this by not seeking the images out (like I did) and even rejecting to publish them after I have presented them.
The mainstream press gets most of its own news from local press. Why would they waste their time digging into something that wasn't even worth it to local press to cover? The answer is they don't.
Democrats are using this George Floyd incident to raise a lot of money, so they can't risk having the general public begin thinking poorly of him.
George Floyd's Criminal History In Harris County Texas
If you look at this screenshot directly from their website (which you can corroborate yourself) shows (9) arrests. The filing dates for those are:
8/3/97
9/25/98
12/9/98
8/29/01
10/29/02
1/3/03
2/6/04
12/15/05
11/27/07
However, there is a discrepancy with some of these and the mugshots I received. Some of them are off by a day. But, I do not have a mugshot for the arrest in 07′ and there is no record of his 13′ arrest, for which I do have a mugshot. There is also no mugshot for the arrest in 03′ either. This is not proof of any wrongdoing necessarily. It is evidence of bad record keeping definitely, though.
How I Got George Floyd Mugshots After ~90 Days
Here is a brief timeline of the events:
July 15: I registered for the Harris County District Clerk website. This enabled me to gain access to all available information on George Floyd's arrests. It is free to do, and gave me instant access. There is a lot of useful information about Floyd and his arrest on this website. You can view the case history, complaint forms, and other chronological details. However there are no mug shots available here. They charge money for that. I learned that later.
July 16: I emailed Media@hcdistrictclerk.com to request mugshots for Floyd. They responded within an hour. Unfortunately they said that the county agency which provides booking photos is the Harris County Sheriff's Office. I was then directed to another media department with this email address: mediarelations@sheriff.hctx.net. Later that afternoon I emailed back asking for any additional information they may have had on one of Floyd's listed aliases, "Omar Jamal Jett."
July 22: I received a response from the Harris County Sheriff's Office from "Media Specialist" Tebben Lewis: tebben.lewis@sheriff.hctx.net. He asked me to provide Floyd's birthdate, and the birthdate of any aliases I was asking about. I responded immediately with the case numbers for Floyd's (9) arrests which I found on the county clerk website.
July 29: Lewis responds to me saying that I must submit my request to the Houston Police Department. He says they are the arresting agency. I responded immediately saying that I was told their office was the correct department to reach out to.
August 17: I reached out to Lewis to check in. There had been no communication with me for weeks.
August 19: I was told that the person answering my emails was "waiting on (their) supervisor to approve the invoice as soon as it is approved (the) will email the FINAL invoice."
August 24: Houston PD "Open Records" department responds to my emails. They tell me that whatever HPD has is going to be provided to me. I was also told that the 9th arrest's mugshot was unavailable because they said it could have been handled by another agency. Later that day I was given an invoice and then was told that they are "closing (our) file on this matter."
August 25: I asked if they would release the mugshots with a picture of my check in the mail. They responded that they would only send the documents once the payment was received.
September 3: I received a message from the Houston PD that said "no records exist" for my request "regarding incident involving George Floyd." Then it said "Pursuant to the Public Information Act, Chapter 552 of the Texas Government Code your request has been closed." I responded saying that I had already been given an invoice that I paid. It sounded like they took my money (not much but still) and wouldn't do what they promised me. Later that day they responded that they had concluded the information for "Omar Jett" was linked to Floyd's mugshots and the incident in September 1998. They have no other "responsive documents regarding Omar Jett." This is also the day that the envelope I received was postmarked.
Then One Day They Arrived…
I finally received the mugshots shortly after this. It took about 90 days. That is how long it took for me to verify beyond any doubt who this man was. It was obvious that the press didn't do their job on this. Somebody else should have definitely gone after these pictures. In fact, if I was calling from the New York Times I wonder how much more cooperative this department would have been. Funny thing is, (2) of the mugshots were impossible to view so I had to call them back.
The lady that helped me the 2nd time just emailed me the photocopied version and they came out perfectly. It occurred to me that maybe somebody at the Houston PD didn't want these to get out. But they have no legal ability to completely block the public from accessing them. I could be wrong, but it took a lot to get this information.
Compare that to Chauvin, Lane, Thou, and Kueng with their mugshots. They were leaked and released almost as soon as they were taken. Plus they all have multiple mugshots from this one incident. Meanwhile you've never seen Floyd's mugshots…until now.
George Floyd's Available Mugshots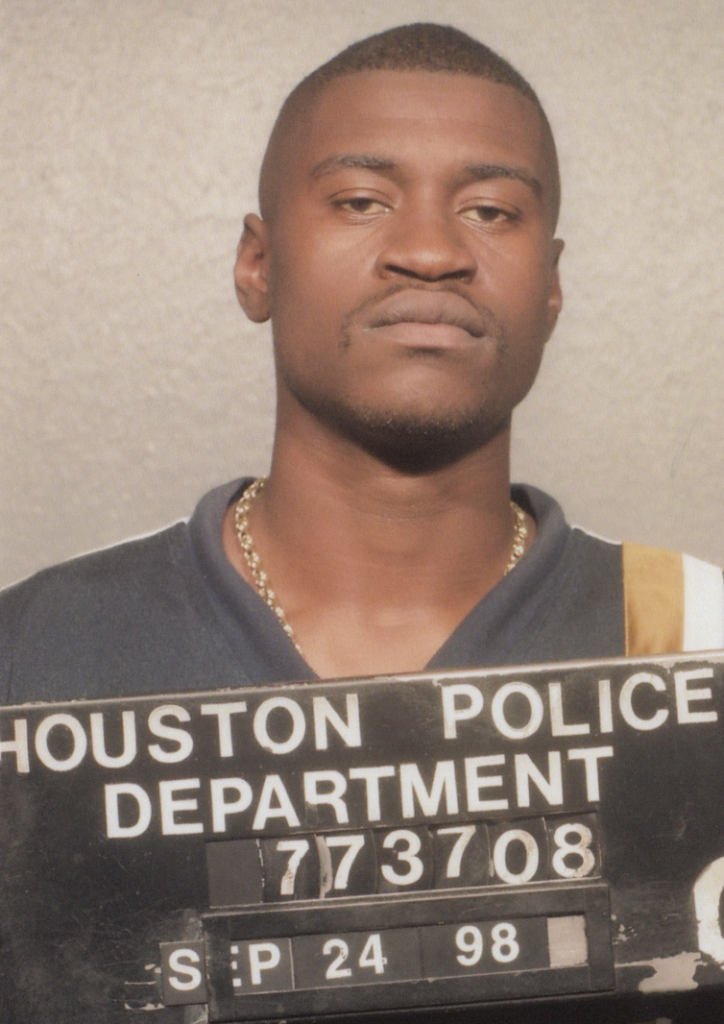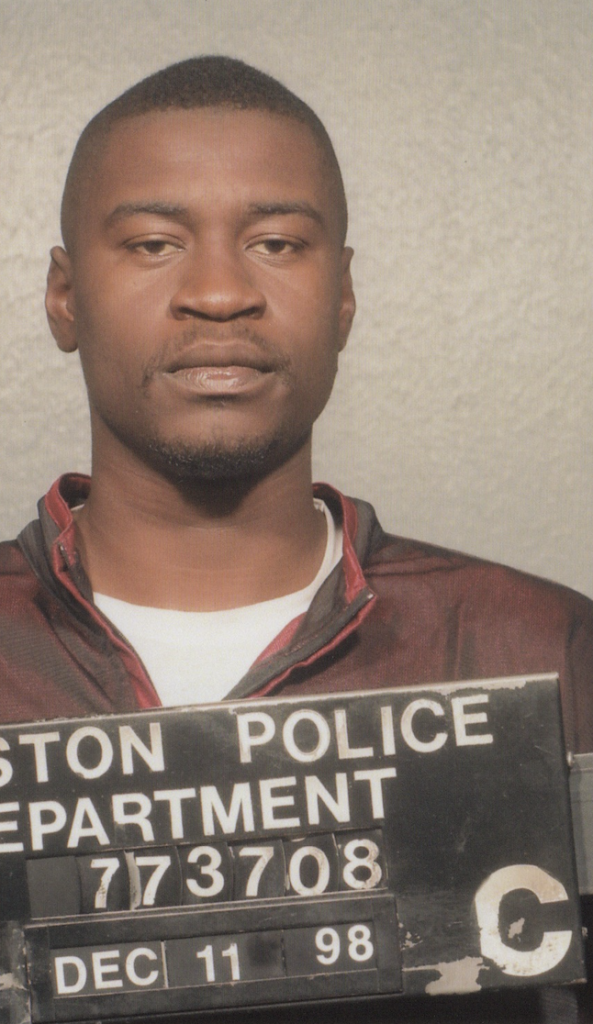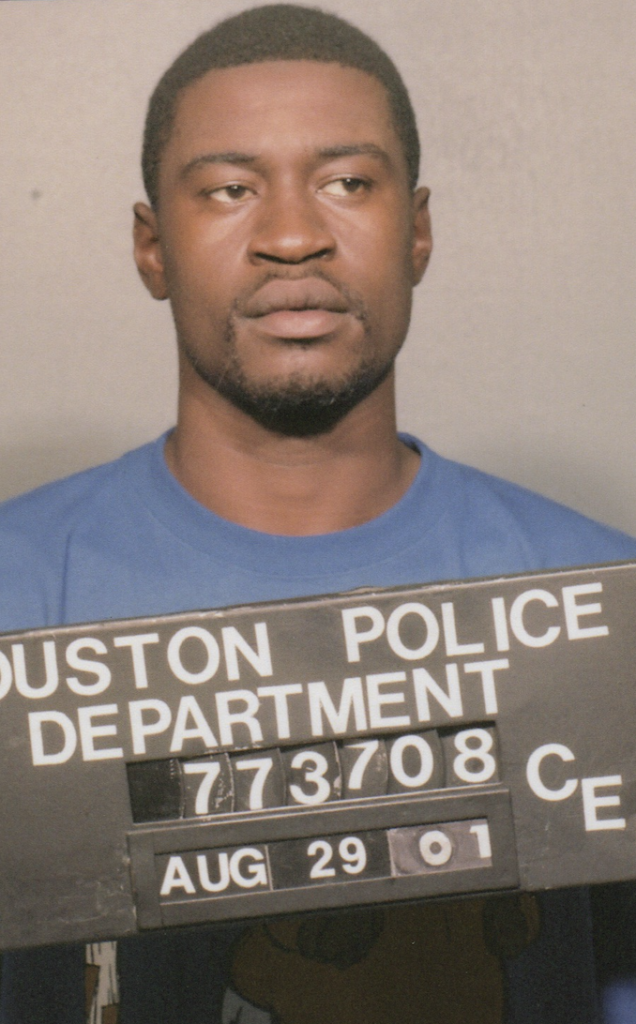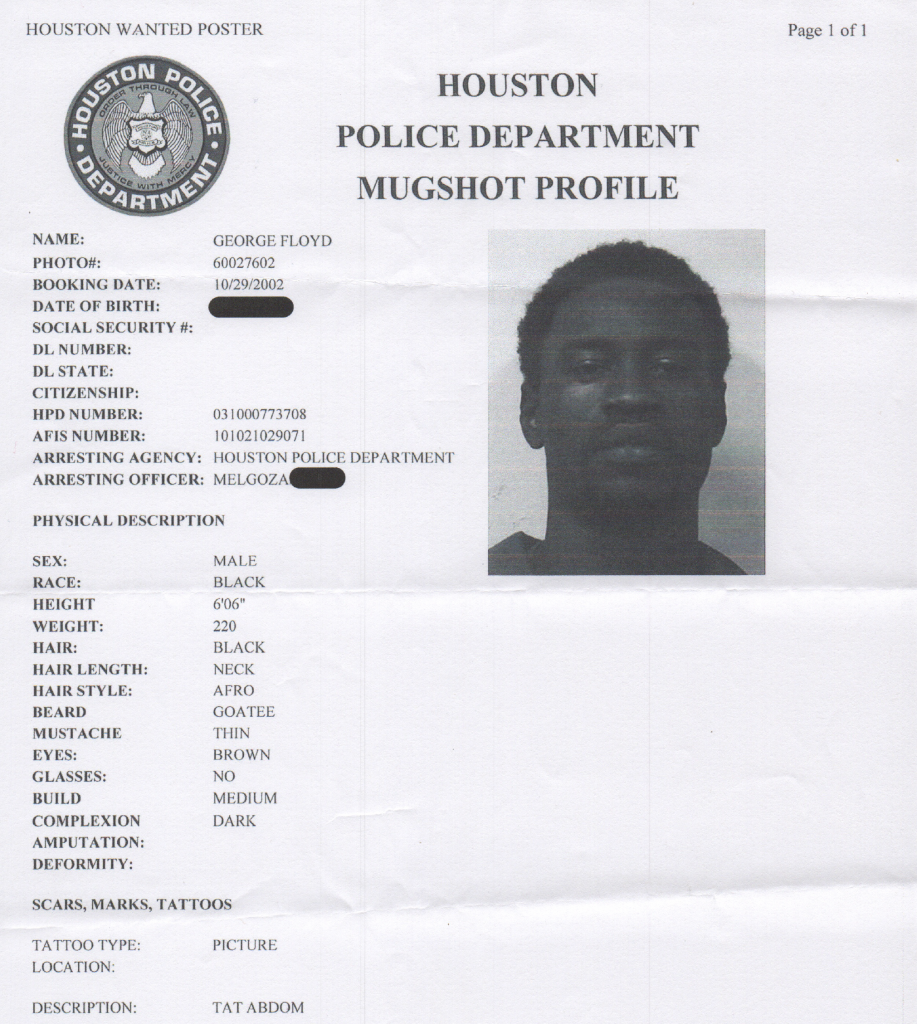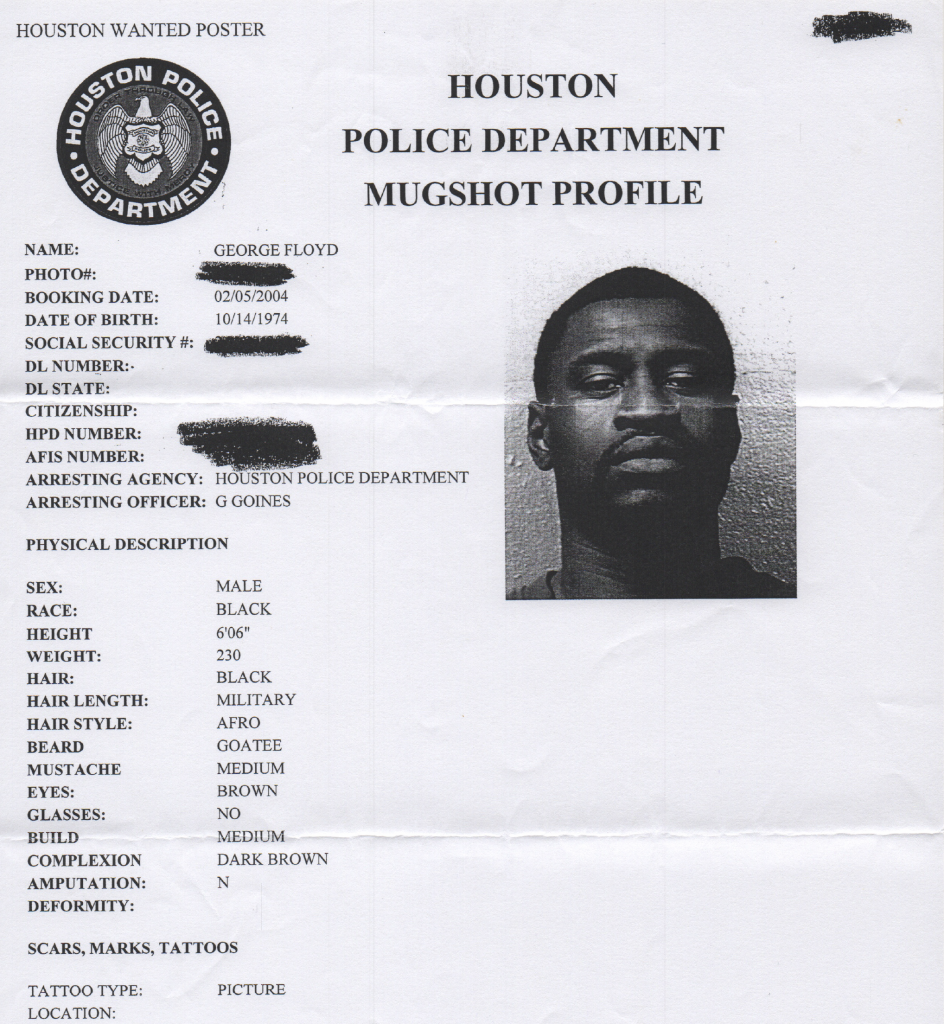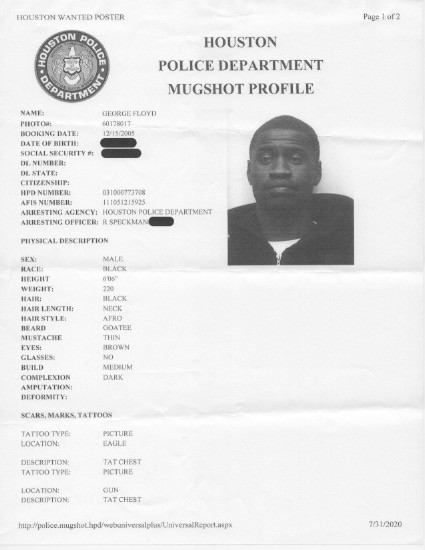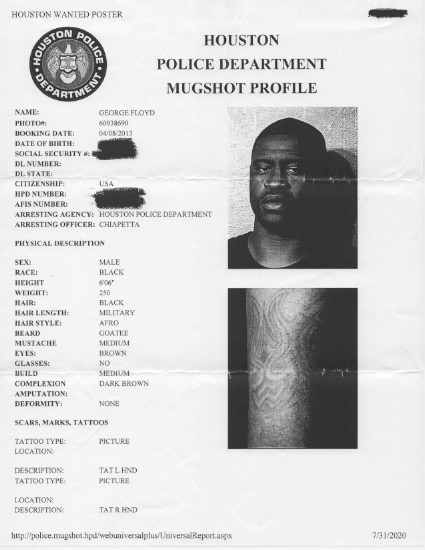 More Background Information, Validation
As you can see, these were available on July 31, but I didn't receive them until mid September.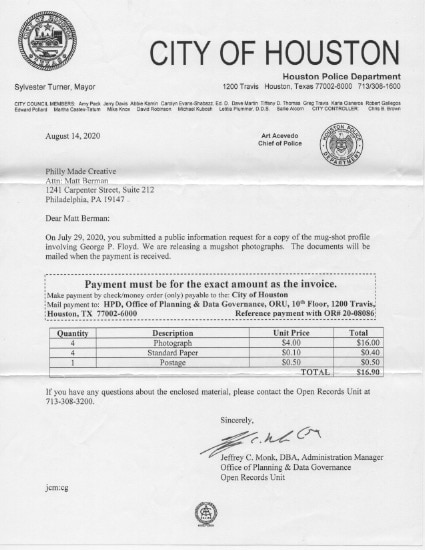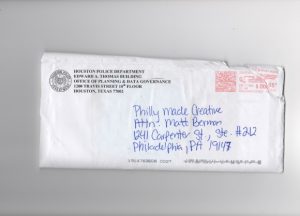 Nobody Else Will Publish Them
I was unsuccessful in my pursuit to find local journalists to publish George Floyd's mugshots. Chao Xiong is a court reporter from the Star Tribune. He has been covering the Floyd case carefully. A lot of what he does is actually pretty good, basic reporting. His coverage on the ground helped me gain an understanding about Judeah Reynolds and her mother. It was also helpful to see some of the content of the court proceedings with Lane especially.
However, he rejected my offer to provide George Floyd mugshots for publication. He said they don't, "run mugshots in stories about crime for people who are charged with said crimes." In other words, "Running mugshots from unrelated incidents in Texas would not meet our standards." That's a really polite, professional, and courteous way of not giving people a balanced understanding of the case. But there is no way to corroborate that, so I'll let it go.
It is just disappointing.
Stop Mean Mugging Me
Some people will be furious at me for this. But it had to be done.
Over the course of writing this book I've talked to hundreds of people. I've yet to meet anybody else who has done this kind of work. Everybody that is out in the streets protesting, rioting, looting, or acting a fool have no idea who this person is. They are chanting his name, but don't know anything about him. After seeing his mugshots, I actually found it humanizing. This was a troubled person. He committed some terrible crimes in his life but that doesn't mean he's irredeemable. But does he deserve to be martyred?
No. This is not a man for children to look up to. It's shameful that people painted murals of him all over the world. Now that Ruth Bader Ginsburg passed away, we saw the Democrats with their usual pandering. But it feels different now. Because RBG is an American patriot. She dedicated her life to be on the Supreme Court. Her life is a model for young people who want to go into civil service. Whether or not you agree with all of her rulings, she was a woman of strong principle. Very hardworking.
But the adulation they are raining down on her is indistinguishable from how people spoke about George Floyd. Biden, Harris, and other high-profile Democrats have met with the Floyd family and spent considerable time with them. Why? What qualifications do they have for leading a civil rights movement? Are they legal scholars? No.
Stop idolizing people, especially people you don't know.
Get to know them first. You might not like what you find.
Why any of this matters...
After hundred of hours combing through
thousands of pages of research, maybe
you'll think of the events a little differently.